Ostatni tom

Medieval and early Modern Art in Central Europe, Eds. by Waldemar J. Deluga & Daniela Rywikowa
Contents: Waldemar Deluga, Daniela Rywikova, Introduction. Medieval Art in Central Europe in Outlines; Pavol Černý, Un manuscrit enluminé du XIIIe siècle à Olomouc ; Hana Runčíková, The Passional of Abbess Cunigunde: Old Theme, New Approaches; Daniela Rywiková, Art and Devotion in the Female Religious Communities of Late Medieval Český Krumlov; Jana Grollová, Czech Reformed Homiletics and its Visual Reflection in 15th and 16th Century Central European Church and Chapel Interiors; Ema Součková, Fabián Puléř: Between the Gothic and the Renaissance; Petr Čehovský, Different Reasons for the use of Gothic and Renaissance Style in Central European Architectural Sculpture between the years 1490-1550; Jennifer Vlček Schurr, "Contemplare in plagam …:ONTEMPLARE IN PLAGAM... ": "Gaze into the wound..." – New Discoveries relating to the Passional of Abbess Cunegund; Waldemar Deluga, The Art of National Minorities in the former Polish-Lithuanian Commonwealth; Nazar Kozak, Architectural Background as a Message: A Case from the Akathistos Cycle in the Lavriv monastery; Svitlana Olianina, Family Coats of Arms on the Iconostasis: Iconic and Conventional Signs; Teresa Pac, Constructing the Catholic Middle Ages in the Process of the Production of Catholic National Identity in Contemporary Poland.
Polish Institute of World Art Studies & Ostrava University 2019

Waldemar Deluga, Ukrainian Painting Between the Bizantine and Latin Traditions
Polish Institute of World Art Studies & Ostrava University 2019; ISBN 978-83-949807-9-5

La Espiritualidad en América Latina, Adriana Sara Jastrzębska & Katarzyna Szoblik (redactoradas)
Spis treści / Contents: Introducción; Teresa Jaromin, El mito de origen de los incas en las crónicas y su relación con el trabajo; Katarzyna Szoblik, Figuras de memoria en las narraciones nahuas sobre el pasado: el topos de la agencia femenina en la escena política del Centro de México; Ewa Kubiak, Alegoría de la Ley Antigua y de la Ley Nueva – la lectura iconográfica de un cuadro del Museo de San Francisco en La Paz; David Terrazas-Tello, El mito de origen mixteco y la complejidad: Cultura Espiritual en El pensamiento simbólico-mitológico-mágico; Edyta Andzel-O'shanahan, El mito, el rito y la ficción - Regina – 2 de octubre no se olvida de Antonio Velasco Piña y la función mitopoética de la narrativa moderna; Izabela Laskowska, Sigla y Macondo: pueblos hermanos Los mundos mágicorrealistas de Gabriel García Márquez y Jerzy Pilch; Maja Zawierzeniec, Algunas observaciones sobre la narcoespiritualidad mexicana en el siglo XXI en su contexto sociopolítico; Carlos Dimeo Álvarez, Performance DADA su historia y búsqueda; Marcin Sarna, Ritos de violencia en Roberto Bolaño.
La Campana Sumergida Editorial & Polish Institute of World Arts Studies
Bielsko-Biała 2019 ISBN 978-83-949807-1-9 ISBN 978-83-945211-6-5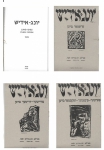 Jung – Idisz [Jung Idysz] / Yung-Yidish 1919 – reprint 3 almanachów grupy (w wersji oryginalnej - jidisz, polskiej i angielskiej) pod red. Irminy Gadowskiej, Adama Klimczaka I Teresy Śmiechowskiej
Spis treści / Contents: Teresa Śmiechowska, Adam Klimczak, Wprowadzenie / Introduction; Jerzy Malinowski, Tradycje Jung Idysz / The Tradition of Yung Yidish; Irmina Gradowska, Eleonora Jedlińska, "A dźwięki naszych bębnów rozpamiętują nawałnicę istnienia": Łódzka grupa Jung Idysz – inspiracje i znaczenie / 'And we drum out the storm of the ineffable': Inspiration and Significance of the Yung-Yidish Avant-Garde Group from Łódź; Janusz Zagrodzki, Grupa Jung Idysz w poszukiwaniu sztuki uniwersalnej / Yung-Yidish in Search of Universal Art; Krótkie noty biograficzne artystów współpracujących z pismem "Jung Idysz" / Short biographical notes of the artists cooperating with Yung-Yidish magazine.
Muzeum Miasta Łodzi i Polski Instytut Studiów nad Sztuką Świata, Łódź 2019 (s. 60); ISBN 978-83-65026-35-4 ISBN 978-83-949807-3-3

Beata Klocek Di Biasio, Mitoraj. A dialog between art and history. Foreword by Sir George Jacobescu. Translated into English by Marcin Turski. Civer design Rafał Ołbiński
Polski Instytut Studiów nad Sztuką Świata & Wydawnictwo Tako, Warsaw-London 2019 (s.194) ISBN 978-83-949807-7-1

Dorota Grubba-Thiede, Społeczne konteksty współczesnej rzeźby i sztuki multimedialnej. Studia nad sztuką polską i powszechną
Spis treści: Rozdział I: Idee nowoczesnej sztuki wobec "nagiego życia". O "obecności" Katarzyny Kobro w horyzoncie współczesnych działań artystycznych na przykładzie wystawy: "MEDYTACJE FIBONACCIEGO + sztruksowy zając | wobec Katarzyny Kobro (1898-1951)"; Rozdział II: "Linie papilarne rzeźby". Czasoprzestrzeń w interpretacjach artystów rozpraszających doświadczenia traumy; Rozdział III: "Każda wspólnota jest wymyślona". Od psychogeografii przez Konstrukcję w procesie do Szarej strefy ; Rozdział IV: Ecovention, efemeryczność. Bliskość, jako sztuka zaangażowana – nowe praktyki kontrkultury.
Polski Instytut Studiów nad Sztuką Świata, Warszawa 2019 (s. 402 i XXXIX tablic fotografii) ISBN 978-83-949807-2-6

From Ausgleich to the Holocaust. Ukrainian and Jewish Artists of Lwmbwerg / Lwów / Lviv, ed. by Sergey R. Kravtsov, Ilia Rodov and Małgorzata Stalarska-Fronia
Contents: Sergey R. Kravtsov And Ilia Rodow, Introduction; Chapter I: Native versus Alien: Magdalena Kunińska, On the Borderline: Marian Sokołowski's Attitude towards Byzantine and Ruthenian Art; Chapter 2: Human Dimensions of Nation's Art: Małgorzata Stolarska-Fronia, Ephraim Moses Lilien and his Lviv Connections; Jerzy Malinowski, The Art of Wilhelm Wachtel: Style and Iconography; Monika Czekanowska-Gutman: Image, Sources and Interpretation: Wilhelm Wachtel's Illustrations to Jerzy Żuławski's Translation of the Son of Songs; Katarzyna Kulpińska, Graphics by Leopold Lewicki in Cracow and Lviv Milieus; Sergey R. Kravtsov, Józef Awin on Jewish Visual Culture; Żanna Komar, Sanatorioum on Vorochta: Józef Awin's Magic Mountain: Sylwia Yoma Tarquine: Józef Awin's Legacy; Chapter 3: Shaping Identities, Sharing Art: Weronika Drohobycka-Grzesiak: Architects Zygmunt Sperber and Ryszard Hermelin: Lviv and Truskavets Projects; Małgorzata Geron: Formistic Lviv; Yurii Biryulov: Jewish Sculptors in Lviv, 1919-1841; Olena Yakumova: Figurative Sculpture in the Lviv City Architecture of the Early Twentieth Century Century; Chapter 4: Staging Art, History and Community: Iryna Horban, Museums of Ukrainian and Jewish Communities of Lviv: History and Destiny of the Collections; Vita Susak: National Art Gallery of Lviv: Art Museum as a Theater of History; Chapter 5: Art for Life: Halyna Hlembotska, Art in the Face of Death: Jewish Artists and Architects in Janowska Concentration Camp; Charter 6: Nadia Watson, Maintaining, Ukrainian Identity in Australia: Folk Crafts by Osyp Petrivskyj; Eugeny Kotlar, East European Synagogue Wall Paintings in the Immigrants Synagogues of New York; Chapter 7: Constructing the Heritage: Ronald Grun: Klezmer Music in Transition from Eastern European to Western Millieus.
Materiały konferencji "The Ukrainian and Jewish Artistic and Architectural Milieus of Lwów / Lemberg / Lviv: From Ausgleich to the Holocaust" w Centrum Historii Miejskiej Środkowo-Wschodniej Europy we Lwowie z udziałem Instytutu w listopadzie 2012 roku.
Grünberg Verlag, Weimar - Rostock 2019 (s. 280); ISBN 978-3-933713-55-1